5 Important Tutorials For Advanced Sample-Making On A Budget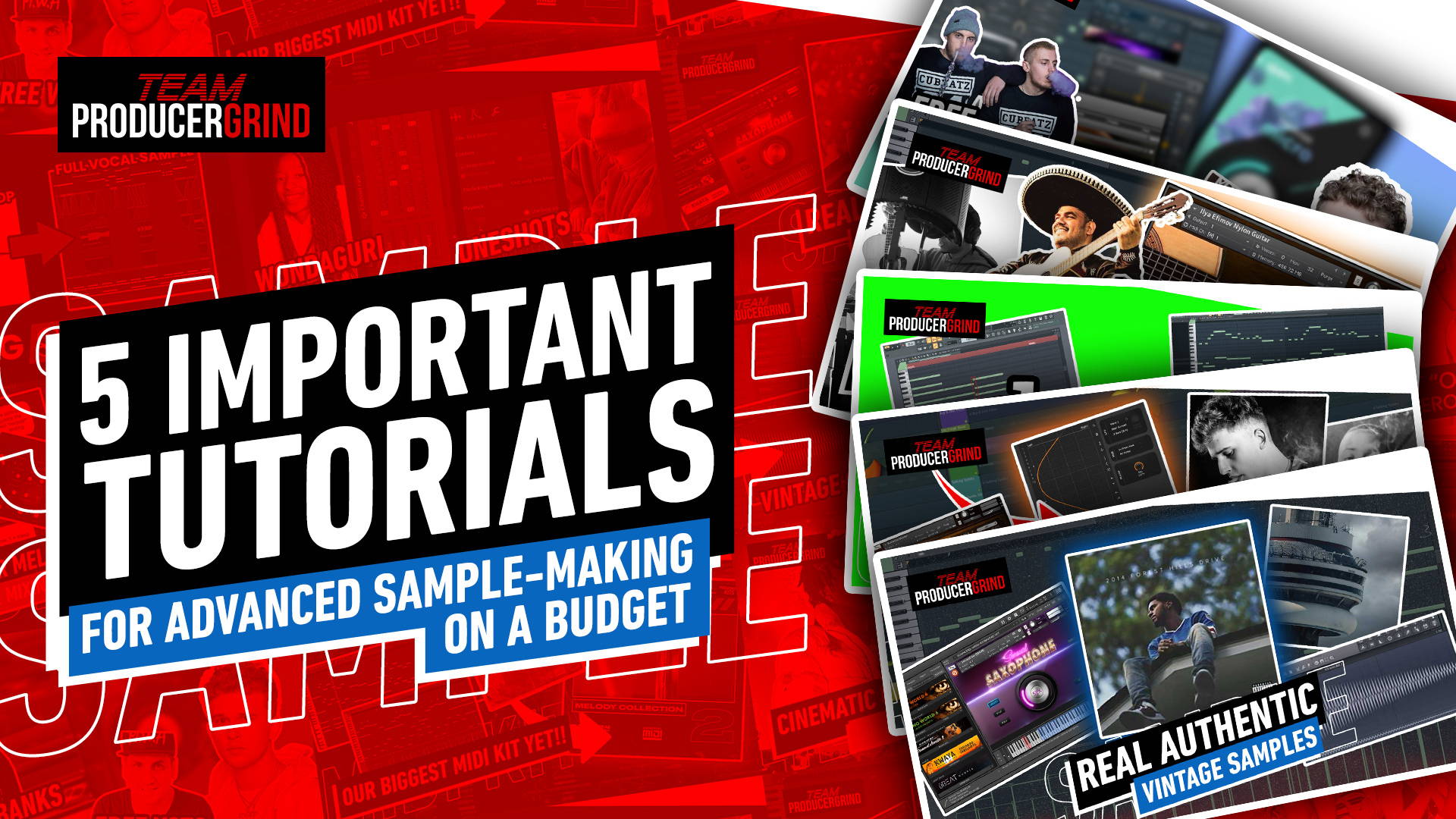 If you've been living under a rock (hey, to each their own), you might not know that Team ProducerGrind's YouTube is a pillar of consistency for the Hip Hop producer community. Here are our favourite videos from July 2021. Prepare for major enlightenment 🧘
‍
(EASY TO UNDERSTAND) How To MAKE CHORDS In FL Studio 20 | Chords In FL Studio 20 | NO MUSIC THEORY!!
Music theory is the Achilles heel for a lot of producers. Our boy TWiLL came up with this dope breakdown of how you can easily create intricate chords with zero music theory knowledge!
It all starts with
Chordify
, an absolute CHEAT CODE of a website that provides you with the exact notes in the chords of every song you can think of. You can even import MIDI from said songs straight into your DAW. TWiLL also goes over how to morph them into unique patterns that can be plugged into your beats right away.
How To Make UNIQUE Spanish Guitar Melodies | Spanish Guitar Melody Tutorial In FL Studio *FREE MIDI*
TWiLL makes coming up with realistic sounding Spanish guitar melodies look easy in this video. He shows you the exact Kontakt presets he uses to create that "realistic" feel and goes over a simple method for creating chords and counter melodies within FL Studio's piano roll.
He displays all of the effect plugins you need to get the very most out of the presets you're using. You'll come away from this video ready to make some spicy guitar melodies in your next beat 💃
How To Make Unique Dark Beats From Scratch (Pvlace, Southside, Pyrex Whippa) FL Studio (FREE FLP)
TB Digital is back with more beat making gems to help take your dark sounding Southside type beats to the next level. He covers everything from the importance of layering your ethnic melody sounds, where to find the best subtle vocal samples, to which effects plugins to use (lots of Halftime 👀).
Watch as TB makes an entire melody from scratch and then adds some hard drums to the equation including an absolutely OUTRAGEOUS 808 pattern. The end result is a banger worthy of Future. Watch and learn.
Making A Vintage Soulful Sample From Scratch (Drake, J.Cole, Cubeatz, Frank Dukes) FL Studio 20
Watch as TB Digital reveals a little-known free plugin called Ripchord that can help you come up with elaborate chord progressions with just one click. In this case, he uses it to create some soulful sounding piano melodies. Then he flips what he comes up with into a vintage sounding sample straight out of the golden era of boom bap. Just wait for that sax to come in 😵🔥


Best FREE Kontakt Banks & FREE VST Plugins For Making Melodies (Cubeatz, Travis Scott, Pvlace) 2021

TB Digital did us all a huge favour by compiling a huge list of FREE VSTs and sample libraries that he personally uses to create the crazy beats he's known for. What's super exciting about this format of this video is that TB takes popular expensive plugins and banks, then provides a free alternative. This man is eliminating financial barriers for the producer community!

Not only is the video itself dope, but if you click in to YouTube you can see the video description where TB has listed all the links to the software he goes over. Instant access! There's now no excuses for making cheap sounding beats.
---