What's Actually Important When Starting Out As A Producer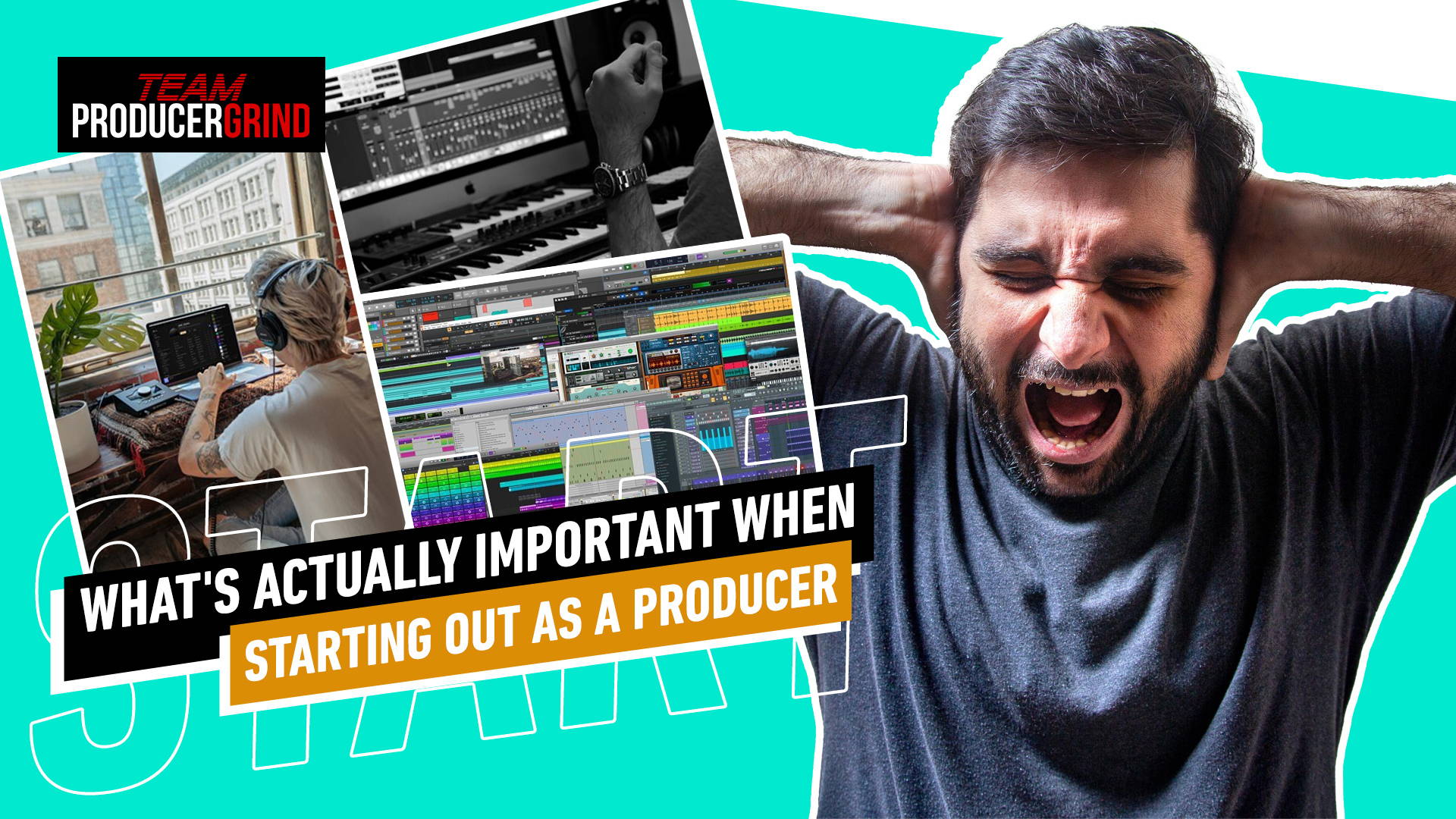 Embarking on the journey to become a music producer is nothing short of overwhelming. There's so much information and opinions out there, from which DAW to use, to the "proper" way to mix your beats, to how to garner attention on social.
With so much producer-related content out there, it's easy for a beginner to lose track of what's truly important. We're going to help you cut through the noise and break down what's ACTUALLY important to focus on when getting started.
Don't worry; it's actually a lot simpler than you might think 💯 Here are five things that are actually important when starting out as a producer:


Thing #1: Actually Create Music
It seems obvious, but simply putting down ideas in ANY music software can actually be one of the hardest steps for newcomers.
It's easy to get caught up reading, researching, or collecting software or sample packs without actually ever creating new music!
And we get it; there's lots to learn and it's easy to feel like you don't know enough to actually create anything good! But the best way to improve is real practice.
Look back at your "producer activities" of the last week. How much time was spent creating beats?
If you find yourself getting overly caught up in the extracurriculars of being a producer (watching YouTube videos, listening to music, watching courses, researching, hoarding sample packs etc.), consider taking a break from all of it and just open up your DAW and lay down some ideas.
At the end of the day, creating music is what this life is all about. You ain't really a producer if you don't actually create music!


Thing #2: Get A Reliable Computer
Whether working from a desktop or laptop, it's incredibly important to have a computer with a strong CPU, decent ram, and sufficient storage in order to produce effectively without technical handicaps.
Strongly consider a laptop. While desktops can certainly be built to be much more powerful, their transport limitations can be a social hindrance.
A laptop allows you to cook up on the go. More importantly, it can better prepare you for cooking up in a studio setting with artists.
If your only set up is a large, heavy desktop, you might be at a disadvantage if working with artists in an actual studio. Tons of A-list producers bring their laptop to the studio and cook up on the spot. That's how a lot of placements happen.
Regardless of whether you choose a desktop or a laptop, make sure it's reliable, fast, and has ample storage space. You'd be surprised by how quickly your music files will add up over time (especially when you factor in VSTs, drum kits, sample libraries, and stems that you might want to keep) 💻


Thing #3: Commit To Learning Your DAW
The DAW (digital audio workstation) is your central hub for making beats. It's a piece of software that you install onto your computer that allows you to produce music (kinda like how you'd write papers in Word or Pages).
There's a number of industry standard DAWs to choose from: FL Studio, Logic (Apple only), Ableton, Reason, and Pro Tools are some of the most popular and well known options.
Choosing a DAW might seem like an intense decision, but here's the good news: there is no wrong answer.
They all have the same basic functions and are perfectly capable of hosting professional sounding beats. Which DAW you use is ultimately irrelevant. It's all about how you use it.
Since the DAW is your base piece of software while making beats, learning its ins and outs is incredibly important.
Just like learning the advance functions of Microsoft Word can help you create impressive looking papers, learning the functions of your DAW will allow you to create interesting and pro-sounding beats.
Everyone you talk to will have an opinion on which DAW is better, but the main difference between DAWs is what their workflow is like.
All DAWs work with the same principles and techniques. By mastering one DAW, you will be able to transition to another DAW should you desire later on.
While you can level up your producing by picking up professional drum kits and sample packs to use in your beats, every DAW comes with stock sounds for those on a budget. These sounds are enough to get you started with music production.
There are tons of free resources (especially on YouTube) that will can teach you how to use your DAW. If you use FL Studio, Team ProducerGrind's YouTube channel is a fantastic resource for you.


Thing #4: Be Patient
You're going to suck at first. Everyone does.
Learning to make beats is a huge undertaking and something that can take years and years to master. In fact, the learning never really stops.
You must love it enough to devote the necessary time to actually improve your skills and hone your craft. If you expect placements or beat sales right away, you're in for a world of disappointment and run the risk of rage quitting 🤬
Stay zen. Stay focused 🧘
Keep your head down and put the time in to learn and improve. Keep a long term perspective. Iconic producers like Murda Beatz and Taz Taylor were producing for six years before they got their first big placements.


Thing #5: Be Consistent
Consistency is the key to improving any skill. It's all about getting your reps in.
They say mastery takes 10,000 hours to achieve. How quickly you get there depends on how much and how often you're willing to work.
If you try your hand at producing and you find that you love it, this part will actually be easier than you might think. You'll find yourself prioritizing making music over other normal activities and you'll begin to generate momentum.
Once you gain momentum, you'll be well on your way to making your music production aspirations a reality.
---
Those are five things that are actually important when starting out as a producer. It's as simple and as complicated as that. If you're pretty fresh to production, below are some especially helpful resources and tools to fast-tracking your progress:
Best of luck to all the new and aspiring producers out there!
---